Teacher Spotlight: Mr. Alex Karr
Mr. Karr is a nine-year English teacher at Marist and a 2010 graduate.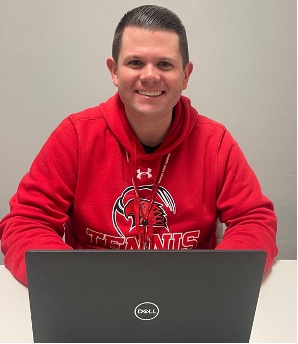 Mr. Karr teaches English I Academic and Literature and Film.  He started teaching here in 2014 after graduating from Illinois State University.
Mr. Karr found it easy to go into English because he always enjoyed English class.  He states, "I get to work with both ends of the spectrum, so it is nice to get the freshmen when they come in and the seniors ready for graduation."  This balance helps Mr. Karr decide what he would like to teach each year.
One of his former students, Cam Kuber, a sophomore, says: "I loved that no matter if I was having a good or bad day, I always knew once I was in Mr. Karr's class that I would be listened to. He did a great job at creating an open atmosphere where everyone could share their feelings on what we were discussing. A great example of this was the four corner debates we did every couple of weeks."
When asked why Mr. Karr has chosen to stay at Marist for so long, he responded, "I feel supported by the administration, my colleagues, it [Marist] is a positive environment, and a great place to be."
Mr. Karr finds Marist as a strong community and continues to be active in it.
Not only is Mr. Karr an English teacher, but he is also the boys varsity tennis coach.  He has been coaching here for eight years starting with the boys junior varsity tennis team in 2015.
He chose to coach tennis because he played in high school and was eager to fill the position. Tennis is a sport Mr. Karr loves to coach and he enjoys watching his players succeed.
We appreciate everything Mr. Karr does for us as students and are thankful he is with us at Marist.