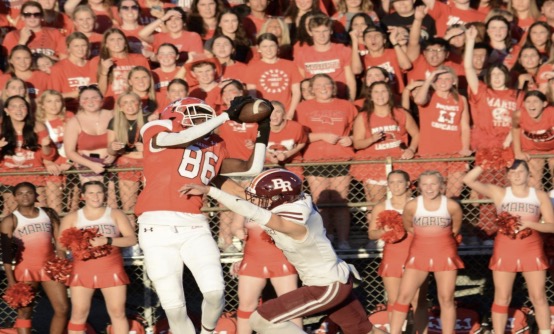 "We had a rough stretch our first 4 games, and I feel our kids responded very well," said Coach Matt Jedrey.
Marist took on Brother Rice's football team on September 1st, and won with a final score of 30-24.
"The excitement is short lived, as it is not our main goal this year," said senior Luke Becker. Marist's goal every year is to bring home a state championship.
"Owen Winters has really stepped up these first few games," Jedrey said. Winters, a senior at Marist, has had a great start to the 2023 football season. After the game against Loyola Academy, Winters rushed 272 yards.
The last two of Marist's four games have been at home.
"The atmosphere at Red and White stadium is unmatched. The energy is electric, memorable and thrilling," said senior Marc Coy.
New to the Redhawks varsity team are sophomores: Rico Schrieber, Steven Brown, and Devin Hamilton. "We have a couple kids who are doing some big things" Jedrey said. "Rico Schrieber has been doing a really great job".
Marist's football team prides itself on the saying We over Me.
Marist football is all about the camaraderie and brotherhood…going to morning workouts together, sharing team dinners before big games, and going through the ups and downs of the season is where this camaraderie is expressed," Becker said.
"If everyone does their job, we will be successful," Jedrey said.
"I feel the losses bring us that much closer as a team," said Coy.