Mamie's Tale of Faith and Resilience
Mamie Till Mobley went through every mother's worst nightmare, but she used it to try to change the world for the better.
Mamie Till Mobley, or Mamie Carthan, was born on November 23, 1921, in Webb, Mississippi. Her son Emmett Till was born in Chicago, Illinois on July 25, 1941.
Emmett and his family lived on the South Side of Chicago.  He dealt with segregation in Chicago, but it didn't compare to what he would soon experience in the south.
Emmett took a train from Chicago to Mississippi to spend some time with his family during the summer.  One day he visited a grocery store where he was accused of harassing Carolyn Bryant, a white woman.  Shortly after this event Carolyn's husband, Roy Bryant, and his half-brother, J.W. Milam, broke into Emmett's Uncle Moses Wright's home where they abducted, tortured, and lynched him in Mississippi in 1955. The men were later acquitted of all charges.
Emmett's body was sent back to Chicago on the same train that he took to get to Mississippi.
Mamie decided to have an open casket funeral for her son as she said, "let the world see what I've seen."  More than 100,000 people came to view Emmett's body. The pictures of Emmett's face ended up in Jet Magazine, other black publications, and even made international news.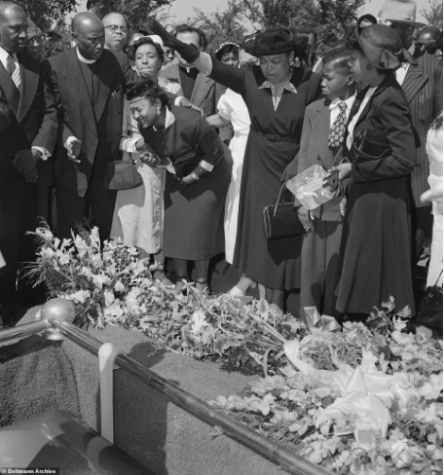 Following her son's death, Mamie began a tour with the National Association for the Advancement of Colored People (NAACP). Telling her story helped Mamie deal with the loss of her son.
Many well known activists throughout the Civil Rights Movement viewed Emmett's death and funeral as a "turning point" in the battle for racial equality. Later on in December of 1955, Rosa Parks refused to give up her seat on a bus which officially began the Civil Rights movement.
Later, Mamie went back to college to obtain her degree in education leading her to work at Carter Elementary.  From there, in 1973, she formed the Emmett Till Players. This group memorized and performed Martin Luther King Jr.'s speeches across the country in Emmett's memory.
Mamie passed away a year before Emmett's murder investigation reopened in 2004.
Although Emmett has passed on, a fight for justice continues as one of his cousins recently filed a lawsuit against Carolyn Bryant in 2022.
In 2022, President Joe Biden signed the Emmett Till Anti-Lynching Act which made lynching a federal hate crime.
In addition, the new movie Till tells the story of both Emmett and his mother.
Mamie Till had the opportunity to let her son's death tear her down but instead it lifted her up to change the lives of others and give them a sense of hope for change.