Alumni Spotlight: Mac Lim
Marist Alumni Mac Lim was a part of the team who worked on Puss in Boots: The Last Wish.
After graduating from Marist in 2017, Mac Lim attended Northwestern University as a pre-med.
After her first year, she realized that it was not her calling and took a film class. It was difficult for her to change her major since she had her heart set on pursuing medicine, but halfway through her Junior year, Mac was officially an animation college student.
As Lim is no stranger to changing her major, her advice would be: "It's possible to change, and college is totally for exploring what you want to do. Even though it makes you feel like you need to know what you want to do before you go to college: you don't."
When she was almost done with school, she did not have much to build her resume on due to not being able to have access to classes and equipment because of the pandemic.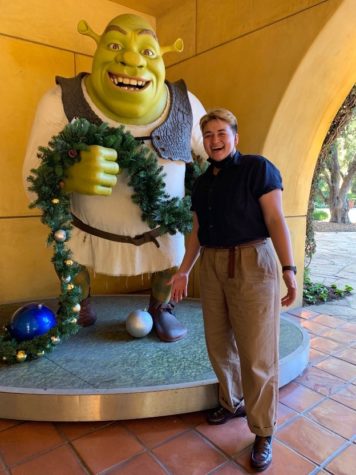 She landed an internship at DreamWorks from a classmate having a connection to someone who worked there. Mac said that she was fortunate to even earn an interview, "the timing was immaculate," and she was then offered the internship.
Mac became an executive assistant at DreamWorks and does general administrative duties such as schedule meetings, take calls, and handle both of the calendars for the President and Vice President of Future Development.
Her main goal in her career is to continue the pursuit of being a writer.  She will get there by keeping up with the socials and the marketplace in terms of what kind of movies are coming out.
Recently she finished work on the 2022 animated film Puss and Boots: The Last Wish.
When Lim first learned that the project had earned a Golden Globe, she was enthusiastic: "Yeah, it was exciting. I think that honestly was surreal. To even learn that I was getting any sort of credit on the movie."
Lim has also met some notable individuals with her work on the film including directors of Puss and Boots: The Last Wish, Joel Crawford and Januel Mercado. She has also met the director of Boss Baby, which was released in 2017, along with people who originally worked on Shrek, which was released in 2001.
Lim has also been able to experience different events through NBC Universal.  This includes getting a sneak peek of Super Nintendo World, which opens on February 17, 2023, in Los Angeles.
Lim has spent the last few months living in that area.
When Lim is not working, she can be found collecting records, playing video games, and watching anime.
Mac Lim has achieved much since the start of her career, and it has only begun. We wish Mac the best in her career and are excited to see what she has in store in the coming years.