The Beatdown: Marist Wrestling
The Marist Wrestling season has started and this winter sport goes from November to mid-March. In the past our wrestling team has been nationally ranked, and they have won two state championships since the team started.
According to JV Coach Rob Topps, some attributes that the coaches are looking for this season are, "toughness, discipline, and determination".
"I enjoy seeing how much the kids have progressed from the first month to the end of the season," states Coach Topps.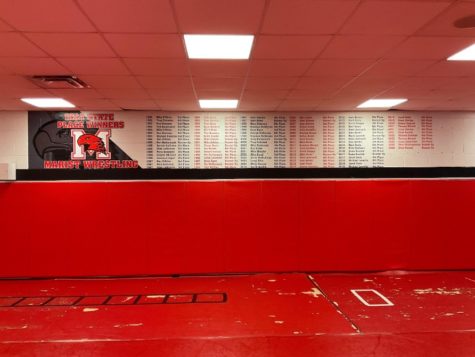 Coach Topps also mentioned that the number one goal for this season would be to, "go to the state championship".  The last time Marist won the state championship was back in the 1980's.
Come support you fellow RedHawks in their upcoming matches.  For those of you interested in wrestling here are some of the rules below.
How to score points

Takedown (2 points): this occurs when a wrestler takes their opponent down to the mat and they remain there for 2 seconds
Escape (1 point): this involves a wrestler escaping their opponent, when pinned down on the mat.
Reversal (2 points): Involves a wrestler that is pinned down coming from underneath and gaining control of their opponent
Near fall (2 or 3 points two seconds earns 2 points and five seconds earns 3 points): occurs when a wrestler almost pins their opponent, but their shoulders were four inches from the mat, one shoulder was touching the mat, or when the wrestler was forced into a high bridge or on both elbows.
So, let's go win the state championship, RedHawks!