Marist's Jumbotron Highlights Changes To Red and White Stadium
New Jumbotron installed at Marist's Red and White Stadium amplifies fan experience on game day with real time replays and interactive displays.
At the beginning of this 2022 school year, a bit of construction was taking place at Red and White stadium.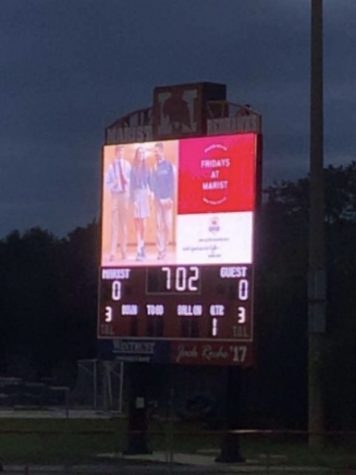 Nearly four years in the making, Marist High School finally secured the donors to upgrade their old standard scoreboard to an exciting, professional Jumbotron.  "Probably three or four years ago, we [Marist] had a group of potential donors that felt  like they had seen some scoreboard upgrades in other high school venues and felt like it was something we should pursue," Marist athletic director Mr. Simpson stated, "While we didn't pursue it at that time, we were contacted again last year by a different group and at that time we felt it was the right momentto pull the trigger and purchase the scoreboard that we did with the assistance of some donors and some sponsors."  These donors noted scoreboards at other high school stadiums that had made recent upgrades, and believed it to be something the school may have wanted to pursue.
Similar to that of the scoreboard you may have seen at other schools such as Mt. Carmel, the new scoreboard at Marist will display live replays and other interactive displays to engage students on gameday. 
However, its usage will expand beyond that of just football games. Other sports such as soccer and lacrosse, and even events hosted at Red and White stadium will have access to the new Jumbotron.
"We [Marist] definitely want to make sure that there is equity in terms of usage of the [score]board," allowing all other sports at Red and White Stadium to utilize it. Also, "It's got uses above and beyond the athletic department, for instance if we were to hold graduation there again… movie nights…summer fest… so there's a lot on the table there and there's a lot we can do with it creatively."
The new Jumbotron opens up the opportunity for exciting new events that were not possible prior to its installation. It also allows for more creativity and originality in the events hosted at the Marist campus. These events are more opportunities to excite the student body and enhance the Marist culture beyond that of what it already is. 
As time goes on we will begin to see more and more usage of the Jumbotron for various purposes beyond just football. "There's going to be a ramp up in how we use it and when we use it over the course of the year and that really moving into next year and the following years hopefully the board will be used more and more and we will see more creative things out there," Mr. Simpson noted.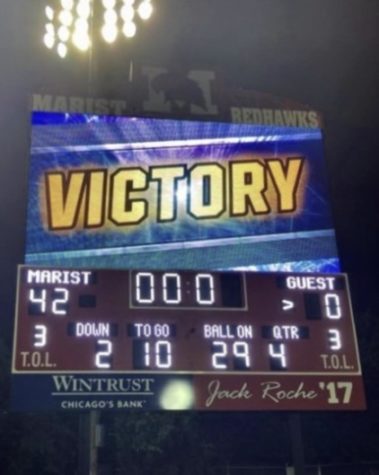 Soon enough we will begin to see the Jumbotron being used more frequently as the broadcasting and marketing team at Marist learn its ins and outs, allowing for new events and experiences. 
While Marist's newest investment will take some time to figure out, surely it will get its money's worth within the community