Robot Umpires in Baseball
Robot Umpires might be the in MLB within the next couple of years to eliminate bad calls.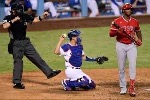 All 30 Triple-A teams have a new system called ABS which stands for Automatic Balls and Strikes.
Previous rules that have been brought to the MLB were first introduced in the minor leagues. The pitch clock, larger bases, shift limits, and now that Triple-A has ABS, the change could be in the majors soon.
The minor leagues plan to have half the games with all the strikes and balls being called by the electronic strike zone. The other half will have umpires making the calls and players will be able to challenge his call.
The only people who can challenge calls are hitters, pitchers, and catchers. Each team will have three challenges and if your challenge is correct, you get to keep it.
 Many have said that they enjoy the human factor in the game.  Cubs Catcher Yan Gomes said in the Chicago Sun Times when asked about robot umpires, "I don't think that that's right. The best thing in baseball and professional sports is the human element of things."
This is why I think that instead of all calls being made by ABS the MLB should use the challenge system. When Arron Judge was asked about it, he said, "If there's an issue with balls and strikes, just get guys who do a better job of calling balls and strikes."
The robot umpires also take away framing completely. Framing is when a catcher catches a ball out of the zone and the umpire calls it a strike. It is one of the most important aspects of catching.
In the 2022 season Jose Trevino was a below average hitter but a great framer which got him an all-star spot. He hit 11 home runs, had 43 RBIs, and hit .248, but he led the league in catcher framing runs with 16. If you have every call being made by a robot it takes away framing.
If the MLB wants to start using ABS I believe that they should use the challenge system so that humans are still making the calls and framing is still a factor. If the MLB gets rid of human umpires completely that they are changing the game too much.