Patrick Kane Traded to New York Rangers
Patrick Kane, a Chicago Blackhawks star player since 2008, has been traded to the New York Rangers in a 3-way deal involving Arizona where Chicago received a package of draft picks as well as 2 young defensive prospects.
The Chicago Blackhawks have entered a full organizational rebuild this season. In the past 12 months the team has fired head coach Jeremy Colliton, general manager Stan Bowman, and traded away many talented players such as Alex Debrincat and Kirby Dach.
Considering this, the Kane trade was inevitable, but that doesn't make it any less heartbreaking for Hawks fans all around the city of Chicago.
In return for Kane the Rangers gave the Blackhawks a package of draft picks as well as defenseman Andy Welenski.
Those picks include a 2023 conditional 2nd round draft pick and a 2023 4th round draft pick.
The conditions of the 2nd round pick is that it becomes a 1st round pick if the New York Rangers advance to the Eastern Conference Finals in this year's Stanley Cup Playoffs.
The Blackhawks also received defensemen Vili Saarijärvi from the Arizona Coyotes in the deal.
Kane is currently on the last year of an 8-year $84 million deal. Since the Rangers did not have enough salary cap space to accept his contract in whole, the Blackhawks agreed to retain 50% of his salary as well as the Coyotes will retain 25% of his salary in exchange for a 3rd round draft pick via New York.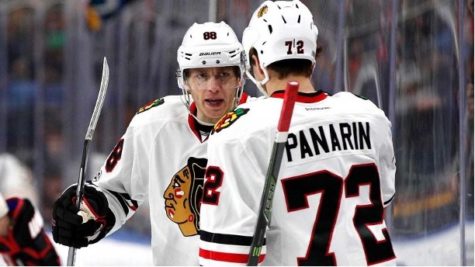 The Kane trade stings, he was the heart and soul of the 2010's Chicago Blackhawks dynasty, but it was the right thing for the future of the Hawks.
Apart from a strange 24 team Covid playoff in 2020, Chicago hasn't made a playoff appearance since 2017.  Kane has expressed much frustration with the management in Chicago and has made it clear that he doesn't want to be a part of a rebuild.
With Kane on the last year of his contract, the odds of him resigning in Chicago were unlikely at best.  It was good that the Blackhawks were able to get something in return for him in a trade rather than lose him for nothing to free agency.
Also, the Blackhawks had no leverage in a trade for Kane. Part of Kane's contract involved a no trade clause which he must waive for him to be traded anywhere. Kane made it clear that he would only waive his clause for a trade to New York or Toronto. The Rangers knew this, and because of it, were able to low-ball the Hawks in the trade. For the Hawks to get a potential 1st round draft pick for Kane was a great deal given the situation.
Kane has meant everything to Hawks fans for the past 14 years and most people would've wanted him to retire a Blackhawk, but that simply wasn't realistic.
With the organization struggling, it was a good move for the Hawks to be able to get some return for Kane even if the return wasn't what people may have wanted.