Opinion: Tom Brady is the Greatest of All Time
Tom Brady, arguably the greatest football player of all time, wrapped up a legendary 23-year professional football career this season; here's why he is the GOAT.
Tom Brady after defeating the St. Louis Rams in Super Bowl XXXVI to win his first Super Bowl
In 2000, a 22 year old Thomas Edward Patrick Brady Jr. had recently wrapped up his college football career, having spent 4 years at the University of Michigan with a successful 20-5 record as a starter. At the draft, Brady would wait patiently for his name to be called at 199th overall in the 6th round by the New England Patriots.
Brady didn't play much his rookie season and wouldn't get his chance to prove himself until a week 2 matchup against the New York Jets in 2001.  This after starting quarterback Drew Bledsoe was concussed after being hit out of bounds on a rushing attempt with about 10 minutes left to play.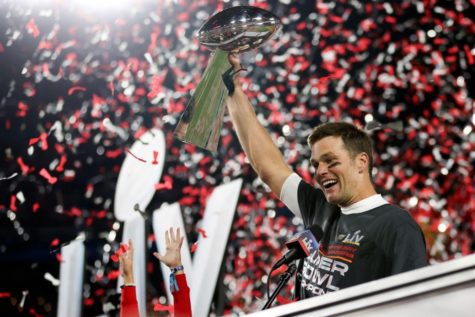 The Patriots would lose that game 10-3 after Brady came in, but the rest of that season is history. Brady would take that 0-2 team to an 11-5 AFC East Title, and later, a Super Bowl XXXVI Victory.
Brady would go on to take over the QB1 role in New England for a majority of his 23-year career, ending with a brief 3-year stint in Tampa Bay.  In that time, Brady had some of the greatest numbers ever including:
251 Wins (#1 all time)
3 NFL MVPs (#3 all time)
5 Super Bowl MVPs (#1 all time)
89,214 passing yards (#1 all time)
649 passing touchdowns (#1 all time)
7 Super Bowl victories (#1 all time)
Tom Brady after winning Super Bowl LV against the Kansas City Chiefs, his last of 7 Super Bowl Wins
Brady's greatness is something people simply can't ignore.
While he was in New England, people complained he was a "system quarterback."  This means he was a quarterback who is only good because of a certain coach's offensive systems (for Brady this being Bill Belichick).
However, after leaving New England, Brady had a record of 32-18 with 3 playoff appearances and a Super Bowl.
Meanwhile, Belichick's offense has struggled under other quarterbacks with a record of 36-38. Belichick's other QBs have been no joke either: former Heisman Trophy finalist and NCAA National Championship winner Mac Jones runs the offense now, as well as 4-time pro bowler and 1994 passing leader Drew Bledsoe before Brady.
Other arguments against Brady include him being carried by his defense and by his offensive weapons.  However, over the years, Brady has won the Super Bowl with a wide range of defenses in terms of points against.  These ranging from the middle of the pack at 12th to an elite defense at 3rd.
On top of that, Brady has won both with and without elite receivers.  The elite includes Rob Gronkowski and Randy Moss, but also winning with average receivers like Julian Edelman and Wes Walker.  The fact of the matter is that all 7 Brady Super Bowls saw very different rosters with different skill levels, but the one common factor was Brady.
Brady's career was full of unforgettable moments, and he gathered countless haters along the way. Brady never needed his defense or his weapons or even his coach for greatness, and the numbers simply speak for themselves.
Tom Brady is the greatest of all time.