Marist Winter Sports: Boys and Girls Basketball
With Marist fall sports ending, different athletes now have their opportunity to play.
The boys' basketball season is approaching, and this year's head coach is Coach Brian Hynes.
In Coach Hynes' opinion, the most important part about the upcoming season is the experience, "So of course, I want to win but for me it's that the kids leave here feeling that playing basketball was their favorite part of being at Marist and that they leave here as brothers and have formed lifelong friendships."
Hynes was the assistant coach at Marist from 2007 to 2018, winning four regional championships. He came back last year to be the head coach and is excited about this season.
Hynes stated: "I expected it to go great; that's where coaching comes in.  We should be able to compete with anybody.  We have a lot of talent.  It's just a matter of figuring out everyone playing together."  So far, tryouts have spanned from the end of October through the beginning of November. Although the season just began, Hynes is optimistic about its outcome.
Hynes describes a successful athlete and student as, "A kid that's willing to be coached. A kid that performs in the classroom, has character on and off the court and is willing to sacrifice for the greater of the team."
The season did not only begin for the boys, but also for the girls. This year's girls' head coach is Ms. Renee Chimino. Coach Chimino became the girls head coach this year but has been a coach for 13 years.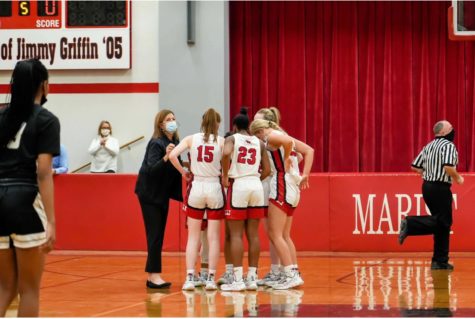 Coach Mary Pat Connolly started the girls' basketball program about 20 years ago when Marist became co-ed. In Coach Chimino's perspective, "(It) can be described as tough and gritty that was competitive with the highest competition."  Our girls have proven they can play well with Marist continuing to win numerous regional titles. Now, the Marist girls' basketball program is known as one of the most elite and competitive programs in the state.
This year, the girls have four returning seniors that will lead the team.  Chimino predicts, "I expect to come out of this season with a winning record and make a deep playoff run." With that, "Every single girl on our team has put in a lot of time and effort into the game of basketball and I am looking forward to seeing that pay off this upcoming season."
Just like Coach Hynes, Coach Chimino is hopeful that this year each player will continue to improve and grow as the season goes on. "I would like to see the Varsity players grow as basketball players," Chimino stated.  She hopes that they will finish strong and grow as not only individual players but as a team.
In Coach Chimino's opinion, "It usually all comes down to the player's love and passion for the game of basketball. If they have that, the other stuff comes easily making them a successful basketball player."
Both coaches are excited and anticipating a successful and fun season.